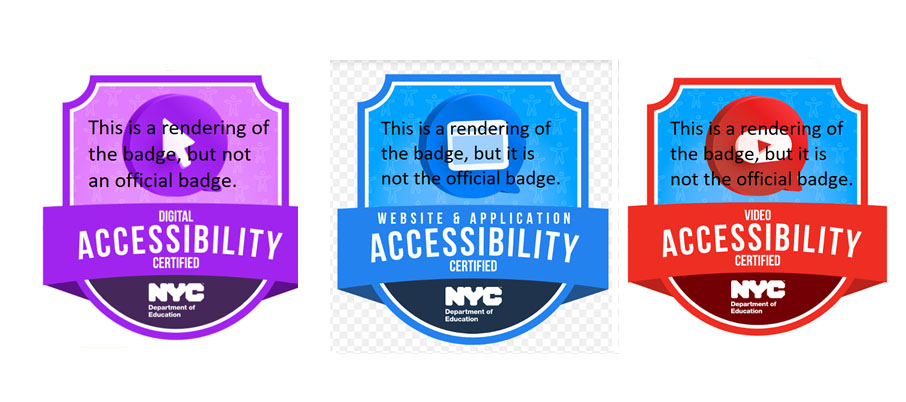 The Office of Digital Literacy and Inclusion offers three types of certification for NYC DOE staff: Digital Accessibility Basics for All Staff, Digital Accessibility for Webmasters and Application Developers, and Digital Accessibility for Video Creators.
NYC DOE staff can access the classes via WeLearn, to ensure they get the classes for free. Details on how to do that–and who to reach out to with access issues–can be found on the InfoHub's On-Demand Digital Accessibility Courses employee page (i.e. you'll need to be signed into the employee side of the InfoHub for the link to work).
Digital Accessibility Basics for All Staff (close to 3.5 hours)
Staff who have earned this certificate have completed–and passed–the following classes on OTIS.Teq.com:
Webmasters and Application Developers (close to 1.6 hours)
To earn this certificate, you must complete the Digital Accessibility Basics (Approximately 3.5 hours) certification above, as well as the following classes:
Video Creators
This certificate can be earned on its own. However, to meet the requirements for Webmaster certification, you MUST complete the other two certificates–earning this certificate does NOT meet that requirement.
Digital Accessibility for Video Creators (Approximately 1.5 hours)
Video Captioning (26 minutes)
Translated Video Captioning (18 minutes)
Making Accessible Screencasts Using Screencastify (36 minutes)