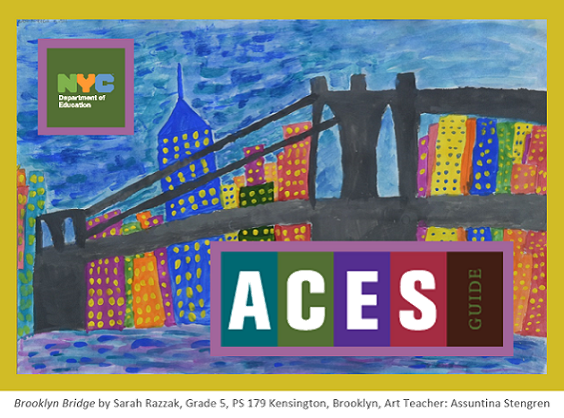 The Office of Arts and Special Projects is pleased to provide the NYC public school community with the Arts and Cultural Education Services (ACES) Guide. The ACES Guide is designed to help school leaders, teachers, parents, and other family members learn about the variety of education programs offered by NYC's rich arts and cultural community. Review the guide to access a searchable listing of hundreds of organizations and their programming in the areas of dance, music, theater, visual arts, film, and general cultural experiences.
The ACES Guide features only NYCDOE-registered vendors and highlights organizations who have secured citywide NYCDOE contracts for Arts Education Services. The ACES Guide offers an ever-growing list of arts and cultural education programs in NYC and is generally updated two times per year: February-March and August-September.
How to be Included in the ACES Guide or Update an Existing Listing
Organizations interested in being included in the ACES Guide may submit a request through our online form. Organizations who are currently included in the ACES Guide may complete the same form to update (i.e. replace) their current listing.
Eligible organizations must provide arts and cultural education programming to NYC public schools and be currently registered as a vendor with the NYC Department of Education. Organizations are especially encouraged to provide details around high-need, high-priority programming areas, including:
Arts supports for students with disabilities
Arts supports for English Language Learners
Summer arts programming opportunities
Internship opportunities for public school students
All submissions will be reviewed with approval granted at OASP's discretion. Organizations will be contacted if any additional information is required. Please note: the ACES Guide is generally updated two times a year during the periods mentioned above. To be included in an update period, you must submit complete information before the update period begins.