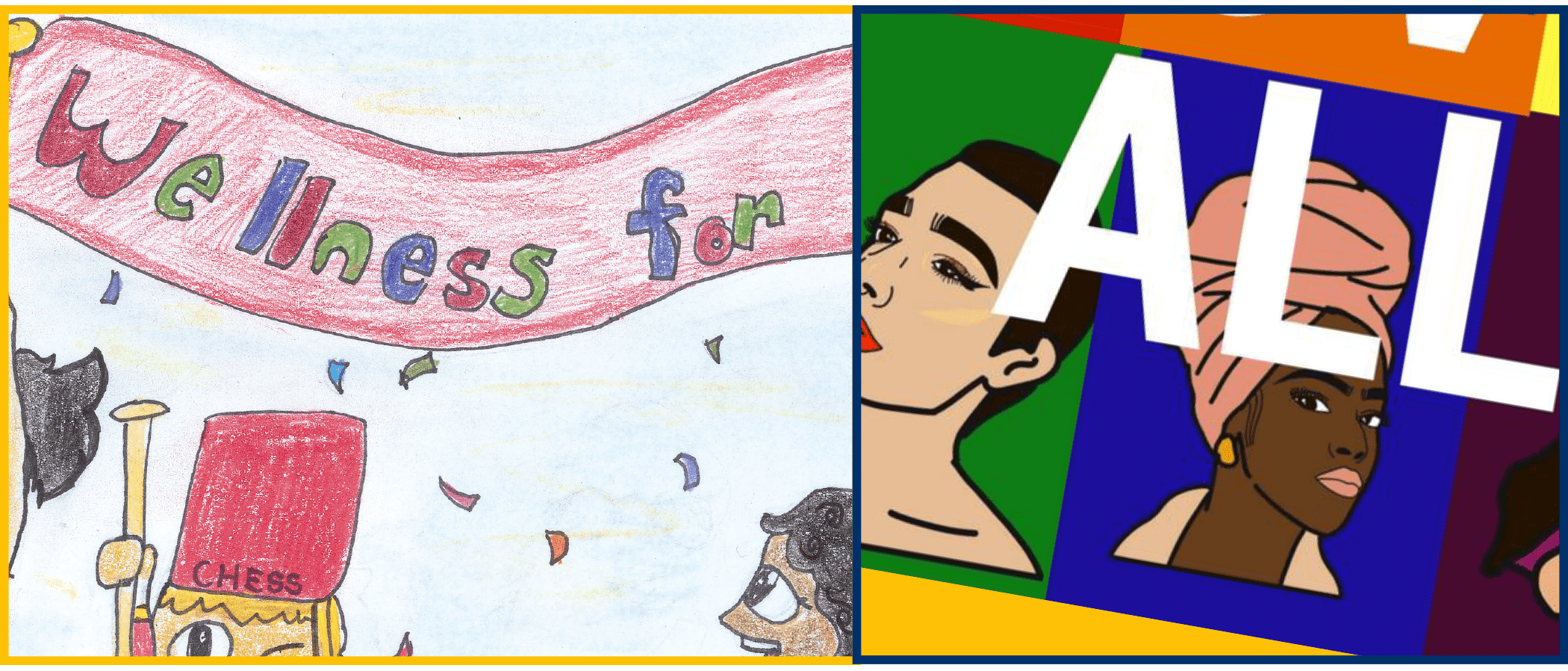 Physical education, health education, and wellness programs help ensure that students are active, focused, and ready to learn, that they feel welcome and respected, and know how to build healthy relationships. For its annual student contest, the Office of School Wellness Programs invites all public school students in grades K – 12 to create a design or message to promote a school wellness-related issue that they care about.
About this Year's Contest
For the 2018 School Wellness contest, we asked students to think about an image, slogan, logo, song, or message you'd like to see on a poster, bumper sticker, campaign button, subway ad, TV or social media campaign, t-shirt, or…use your imagination!
Winning designs will appear in the 2018-19 School Wellness calendar, on promotional items such as t-shirts, on the DOE website and social media accounts, and in other DOE materials. Who knows, you may even see your design on the subway some day!
Looking for inspiration? Check out the updated DOE Wellness Policy, read about School Wellness Councils, and browse past issues of our School Wellness Weekly newsletter.
Who Can Enter?
All current New York City public school students in grades K-12 are eligible. Teachers must submit the entries on behalf of their students.
What Should We Submit?
Elementary students: Submit artwork or a design with a wellness slogan.
Middle/high school students: Submit a public awareness campaign design.
Any student may submit a song, spoken word, or video as their entry.
These are judged in a separate category.
What Can We Win?
Schools: One winner in each grade band (elementary, middle, high school) will win a free school mural that their school community will create in partnership with Groundswell. Runner-up schools can win field trips and student activities sponsored by Appalachian Mountain Club and other partners; t-shirts printed with the winning design, and other great prizes!
Students: The winner in the song, spoken word, or video category gets to work with Hip Hop Public Health and professional producers to produce a free track for their video. Other winning students will receive free passes to health and fitness opportunities, and all student winners and runners up will receive a swag bag.
For more information or questions, contact the Office of School Wellness Programs at wellness@schools.nyc.gov.
School Wellness Campaign Contest Winners and Runners-up for 2018
Thank you to all New York City public school students who participated, and thank you to the school communities for supporting their ideas and cultivating their messages. See the full contest details and guidelines, and download this Certificate of Participationto recognize all students who entered their designs and campaigns in this year's contest.
Congratulations to 2018 School Wellness Campaign Contest Winners and Runners-up!
Elementary School
Winner: Annie Li, Grade 4, P.S. 165 Edith K. Bergtraum (25Q165), Queens
Runner-up: Samyuktha Arvind, Grade 5, P.S. 165 Edith K. Bergtraum (25Q165), Queens
Runner-up: Fatiha Jalal, Grade 5, P.S. 033 Edward M. Funk (29Q033), Queens
Runner-up: Ashley Li, Grade 5, P.S. 020 Anna Silver (01M020), Manhattan
Middle School
Winner: Musricul Anwar, Grade 7, Brooklyn Environmental Exploration School (23K664), Brooklyn
Runner-up: Kayla Sie, Grade 7, J.H.S. 074 Nathaniel Hawthorne (26Q074),Queens
Runner-up: Nora Haque, Grade 7, J.H.S. 074 Nathaniel Hawthorne (26Q074), Queens
Runner-up: Chelsea Li, Grade 7, J.H.S. 074 Nathaniel Hawthorne (26Q074), Queens
High School
Winner: Jillian Roed, Grade 11, Tottenville High School (31R455), Staten Island
Runner-up: Sarah Saad, Grade 12, Brooklyn Technical High School (13K430), Brooklyn
Runner-up, Zilin Wu, Grade 11, Franklin Delano Roosevelt High School (20K505), Brooklyn
Runner-up: Sofiat Koleosho, Grade 10, Young Women's Leadership School of the Bronx (09X568), Bronx
Video Winner
Dior Harley, Grade 5, P.S. 057 Hubert H. Humphrey (31R057), Staten Island
Video Runners-up
Jerry Ye, Grade 11, Julian Giordano, Grade 9, Adam Ouabaita, Grade 11, Ivan Zhang, Grade 11, Stuyvesant High School (02M475), Manhattan
View Past Winners