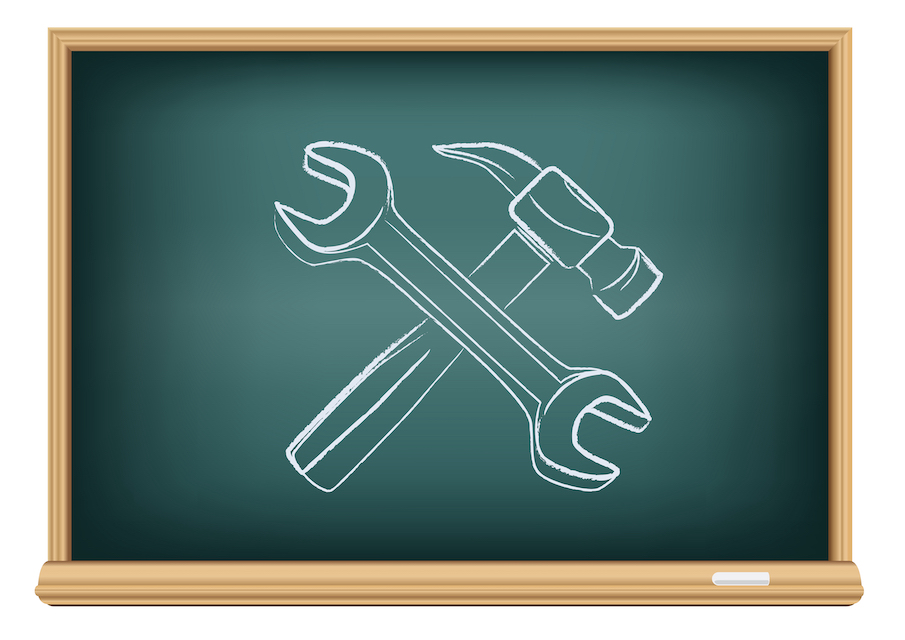 Welcome! The NYC Department of Education's School Recruitment Toolkit is designed to give you and your school community the best practices, resources, and templates to successfully showcase your school and tell its story. We hope it will help you celebrate your students' successes, highlight what is unique about your school, and communicate with students and families who may wish to apply.
Showcasing Your School
We encourage you to showcase your school in virtually and in person! We've gathered creative ideas for information sharing and engagement—many of which came directly from schools—and we hope this toolkit is a useful resource at any phase of the process.
MySchools Events Calendar. New this year, we launched an events calendar in MySchools so that families can find all admissions events, school open houses, and tour information in one place. Families are able to add events to their personal calendar and RSVP to events directly from MySchools. To learn how to add an event to the calendar see the MySchools Events Calendar Guide.
Send us the link to your web page for prospective applicants. This can lead to information about virtual events (live or pre-recorded), videos, virtual tours, and/or other admissions information about your school. We'll feature this link on your school's MySchools page and tell families about this new feature in the MySchools directory.
How to Use This Toolkit
This toolkit provides recruitment "how to" strategies, together with a menu of options—specifically free or affordable ones—for showcasing your school and engaging families. Each strategy includes best practices, examples, and some easy-to-use templates/outlines. More strategies and examples are coming soon; this toolkit is a living resource, and we look forward to partnering with you to build on and improve it.
Revisiting your goals? Want some general guidance? Read our Five Ways to Get Started below.
Ready to dive in? Skip ahead to section 5 to explore ideas and how-to resources.
Five Ways to Get Started:
1. Identify Your School Goals
Before you do any student recruitment, identify what you're trying to achieve. You will have the highest impact—and will help your school's efforts the most—when the message you promote and the actions you ask your audience to take are aligned with what you want to accomplish. This goal isn't meant to be shared explicitly with the public. Instead, it is meant to focus your school/admissions leadership's work.
The big-picture goal may be to showcase your school and recruit students—but push yourself to define that further. Are you trying to reach all students in a particular grade, or are you focusing on connecting with specific groups: students with specific academic or extracurricular interests? Students interested in 10th grade seats? Students new to the country? Students who are looking for a school in a fully accessible building? Students interested in earning high school credit in middle school? Students looking for ways to earn college credits in high school? Are you trying to increase economic, cultural, and/or racial diversity in your school? If so, in what ways? Are you hoping to become a higher-choice school for the families who live in your district?
Get as specific as you can—and make your goal measurable.
Example: We hope to diversify our middle school's student body by increasing the number of English Language Learners, students with disabilities, and/or students who live in temporary housing by 20% each over the next 3 years.
Example: Increase each new 9th grade class by 30 over the next 4 years by recruiting students interested in technology and coding, with a long-term goal of adding and funding a new CTE program.
Action Item
Answer the Following Questions:
What specific interests or needs does your school specialize in?
Are you trying to boost your school's enrollment? If so, by how much?
Are you trying to diversify your school's enrollment? If so, what are your student body diversity goals?
Are you hoping to attract applicants from specific neighborhood(s)?
2. Understand What Makes Your School Special
To successfully showcase your school, consider what it offers that will be enticing to students and families—and what makes it different from other schools they could apply to.
Action Items
Analyze other schools—consider the following questions.

What other schools are in your neighborhood and district at the same grade level(s)?
What other schools (in your district, borough, or across the city) offer an environment/curricular focus/etc. similar to what your school offers?
How do they talk about themselves?

Find ways to talk authentically about your school in a way that makes it clear what is unique about your school. Where does your school have a particular strength? What do families tend to like about your school? Make a list of these features and refer back to it in your recruitment efforts.
3. Consider Who Would Thrive at Your School
To achieve your school goals, who do you need to engage? Your first thought might be "parents and families," but push yourself to be more specific. Given the size and diversity of the NYC public school system, "parents and families" is an incredibly broad group. Narrow it down to some target audiences that match your goals.
Remember that all DOE schools should welcome and serve a diverse student body—including a range of economic backgrounds, various races and ethnicities, English-language learners, and students with disabilities. And while demographics (where students live, what grade they are entering, and so on) can be important, they're only one way to understand your target audience. Think about what specific courses (arts, STEM, accelerated, languages other than English, etc.) students are interested in taking, how they learn, and why they would thrive at your school. Consider what clubs, sports, and other extra-curricular activities (such as restorative justice, the school newspaper, or band), your school offers that your prospective students would be excited about.
Action Item
Answer as many of the below questions as possible/that are appropriate:
What do the students most likely to thrive at my school care most about?
What special interests do the students I am recruiting have?
What needs are unique to the students and families I am recruiting?
Where does my target audience live?
What languages do my target audience speak?
What special services do my target audience need to know we offer?
4. Set Outcome-Action Goals for Student Recruitment
Recruitment goals support your school goals during the admissions process. Each goal should have a measurable outcome and an action, or actions, you will take to accomplish it.
Always include a call-to-action (CTA) as part of your family communications. Think of the CTA as what you want your audience to do after seeing your email, postcard, etc. Should they come to a virtual or in-person event? Visit your website? Follow you on social media? When your audience takes a step like this, it's called a micro-commitment—and even the smallest micro-commitments help families feel connected to your school and more likely to apply.
Here are some examples of school recruitment outcomes and actions:
| Outcome | Action |
| --- | --- |
| 150 families attend at least one of our virtual events. | Invite prospective families through email, social media advertisements, and word of mouth through current students and families. |
| Prospective families feel connected to our school through regular updates from us during the admissions process. | Send 1-2 emails a month to families on our mailing list with updates on our tours, videos, online events, how to contact us with questions, and a CTA. |
| Increase social media referrals to the school's application by 50% while the application period is open. | Pay to promote (or "boost") at least 2 posts a week promoting our admissions-related events and the application. Target posts to reach the most relevant audience. |
| Increase social media engagement by 200% while the application period is open. | Post to social media once per day, inviting participation through asking questions, posting polls, and requesting people share content. Tag current and prospective parents, community organizations, and other school partners. |
| Nearby elementary schools are informed about my middle school so they can tell their families about us during the application period. | Directly reach out to at least 5 school leaders to talk about our school and our admissions goals, share our recruitment materials, and ask them to send a staff member who supports families with applications to one of our virtual events. |
TIP: Avoid "awareness" as a goal. You can succeed in telling every potential applicant all about your school—but if none of them take any action, you haven't moved them closer to applying, and you haven't gotten any closer to reaching your school goals.
Action Item
Answer the following questions:
What recruitment efforts have worked for my school in the past, and how can we build on those successes?
Where have students/families disengaged from our school during the application process in the past? For example, if you get a lot of web traffic and interest at events but too few students apply to your school, this may signal that you need to change your content and/or create a stronger follow-up campaign.
Which families do you need to reach more this year than you have in the past? What tactics do you think will best reach them?
What strengths of your school are compelling to your target audience? How can you make them shine?
5. Develop Specific Ways to Showcase Your School
The ways you can showcase and boost interest in your school are limited only by your imagination. Whatever you create and whatever tactics you use, your audience should be top of mind. Think about how they will encounter your message, outreach, or materials. For instance, what news sources do they use? What websites do they visit? Where/how will they get your flyer or postcard? What languages do they speak?
While the possibilities are endless, here is a menu of ways to showcase your school this year. Follow the links below to learn more about each: find ideas, best practices, and templates.
While the possibilities are endless, here is a menu of ways to showcase your school this year. Follow the links below to learn more about each: find ideas, best practices, and templates.
How To...
Coming Soon
Make the Most of Your MySchools Page | Many families may learn about your school for the first time in the MySchools directory. We'll give you some tips on how to best use—and how to request updates to—your school's page.
Engage with Social Media | Social media offers a great way to share what is happening at your school in a way that is authentic, casual, and immediate. It also offers an opportunity to connect directly with your community and is at its most powerful when used as a tool for dialogue, rather than as a megaphone.
Plan Email Campaigns | Email is a low-cost or even free way to stay in touch with prospective students and their parent/guardians—as well as keep current families informed. With a little planning, it can be an incredibly valuable way to share information about your school and make families feel welcomed into your community.
Collect Contact Information from Families | Make sure you have methods in place for collecting families' contact information! You will want to stay in touch with them during the recruitment/application season. Methods may include a sign-up on your website and collecting names and email addresses as part of event registration.
Use Images | Images are a powerful way to showcase your school and help families imagine their children attending it. Learn how to use images legally, ethically, and effectively.
Build an Inclusive School Community | DOE believes that all students benefit from diverse and inclusive schools and classrooms. Be sure you have well-defined plans to share with interested families how you welcome, support, and serve multilingual learners, students with disabilities, students with accessibility needs, students in temporary housing, immigrant families, and LGBTQ+ students.
Form and Nurture Community Partnerships | Cultivating relationships with local community groups and businesses can help build awareness about and lead to positive buzz for your school.
Feedback
The School Recruitment Toolkit is an evolving resource, and we look forward to partnering with schools to build on, update, and improve it.
If you have general feedback about the toolkit or want to share success stories, email OSEComms@schools.nyc.gov.
For questions specific to our admissions processes, please email: