What we do
The District-Charter Collaborative (DCC) facilitates collaboration between district and charter schools with the goals of improving instructional practices and student outcomes while building schools' capacity to solve their own problems of practice and eliminate disparities along the lines of race.
The DCC is an extension of the Learning Partners Program that has been created in collaboration with District-Charter Partnerships, an Equity and Excellence initiative.
DCC schools work together over two academic years in professional learning communities composed of four schools (quads), 2 district and 2 charter, to identify a problem of practice within a particular Learning Focus Area (LFA) and address it by engaging in an inquiry process to drive collective learning.
Goals
The District-Charter Collaborative seeks to:
improve educator practices and student outcomes: DCC schools share, adapt, and adopt strong practices and make measurable improvements toward meeting year-long goals, with a particular emphasis on improving outcomes for Black and Latino students

strengthen school capacity to engage in continuous improvement: DCC schools develop requisite skills and tools to engage in disciplined inquiry as a vehicle for school improvement

address inequities that manifest along the lines of race: DCC schools nurture leaders for equity who work to eliminate opportunity and system gaps and ensure success for all students

leverage the unique strengths of district and charter schools to help each other improve on shared issues and contribute to the establishment of a system-wide culture of collaboration: DCC schools utilize collaborative structures within and across schools and sectors as a vehicle for school improvement and forge relationships sustained beyond participation in the program
Application
The application for the 2019 cohort of the District-Charter Collaborative (2019-2020 and 2020-2021 school years) will be available in January, 9 2019. To receive updates on the application process please register
here.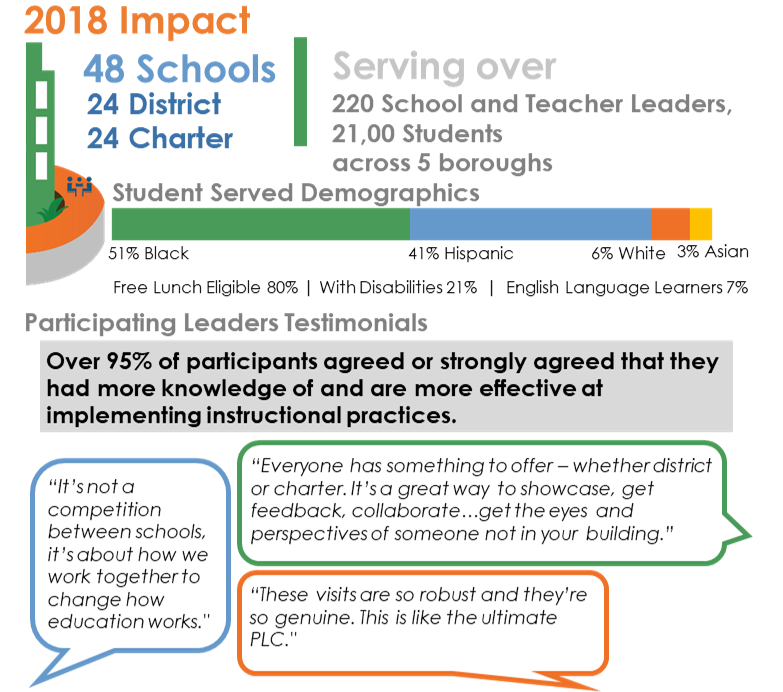 District-Charter Collaborative Case Study: Learn more about the experience and impact of participating in DCC through a case study of an innovative math quad that worked together during the 2016-2017 and 2017-2018 school years.
District-Charter Partnership Year 1 Evaluation: Read the results of a mixed-method study of all District-Charter Partnership programs, conducted during the 2016-2017 school year, which was the first full year of DCP implementation. Drawing on surveys, interviews, and program observations, it highlights promising practices for structuring and fostering deep and meaningful cross-sector collaboration,as well as the challenges and early outcomes of these efforts.
Additional Resources and Information
For additional information, contact the DCC team at DCC@schools.nyc.gov.