The health and safety of our students and staff during remote learning continues to be our highest priority. It took time to implement key upgrades to ensure we could create a safe DOE Zoom platform that meets the educational and safety needs of our students, parents, families, and staff. The result of this work that as of May 6, 2020 our school communities can use a central DOE Zoom platform as another DOE-approved video conferencing platform, along with Google Meet and Microsoft Teams. All other Zoom accounts--both personal and school-based--are not safe for DOE work.
What does the DOE Zoom platform let us do?
Zoom, as provided by the DOE, is safe to use for remote learning, teletherapy, and meetings. The following security features are pre-set and will help keep your remote classrooms, meetings and events safe:
Supported:
The following functionality is supported:
Anyone with the following types of NYC DOE credentials:

@Schools.nyc.gov (administrative and school staff)

All staff IDs now automatically bypass waiting rooms—even for already-created meetings

@nycstudents.net (students)

You'll have to admit them one-by-one or all at once from the waiting room

@doeexternal.nyc (external service providers)

External service providers will automatically go into waiting rooms

You'll have to admit them one-by-one or all at once from the waiting room

Non-DOE guests can now be invited to your meetings:

They'll be put into a waiting room
You'll have to admit them one-by-one or all at once from the waiting room

Meetings can support up to 300 people
Audio/video calls through either phone or computer
Breakout rooms
Chat and Q&A
Closed Captioning for meetings
File Sharing
Muting participants

If a participant is muted by the host, the participant cannot unmute themselves.

Non-Verbal Feedback (like Raise Hand and Applause)
Personalizing your account by:

Adding/changing your photo
Uploading personalized backdrops (if your computer can support backdrops)

Polling
Recording a meeting (non-HIPAA only):

Only the host can record a meeting
If a meeting is recorded, participants will be notified, either when it starts or as they join (if it's already started).
Recordings are automatically stored for 60 days in the cloud--after that they are deleted
While you can't record to our computer, the host can download a recording and post it elsewhere (like Youtube, Vimeo, etc)

Zoom Live Streaming of meetings:

You can live stream a zoom meeting via a platform like Facebook or Youtube.

Please be sure to moderate--or disable--comments on the platform you are live streaming to.
Neither Zoom--nor the DOE--have control over that functionality on those platforms.
Only the person hosting it does.

Live Streaming a Zoom meeting means that:

People without a DOE log-in can watch a meeting that is being live streamed

The number of viewers is limited only by the platform you are streaming to (i.e.Youtube)
Not Supported
The following functionality are NOT supported in the NYC DOE Zoom platform:
Locally recording a meeting
Private chats
In addition, students cannot do the following things in a meeting:
Host their own meetings
Join a meeting before the host
Rejoin after being removed by the host
Rename themselves
Share their screen

By default, only the host can share their screen
However, the host can promote people to "Presenters," and enable screen sharing at that time .
Find out more by attending a Zoom User Training session! There's at least one offered every week! There's even two on June 4, 2020--Chancellor's Conference Day!
How do I sign into Zoom?
Log into the DOE Zoom Account via the internet
Open your web browser (Chrome, Safari, etc.)
Go to nycdoe.zoom.us
Click "Sign In"
You will be brought to the DOE sign in page (the same one we use for the InfoHub and other DOE applications)
Sign in with your DOE credentials
You will land on your account's profile page, where you can change your profile picture, and schedule, join, or host meetings.
Need more directions? Check out this step-by-step guide--complete with screenshots!
Sign in With the Mobile App
Download the mobile app at your provider's store
Launch the app
Click "Sign In"
Under "Or, Sign in With" - Select "SSO"
Type NYCDOE in the field to the left of the pre-populated ".zoom.us"
Then sign in with your DOE credentials
Need more directions? Check out this step-by-step guide--complete with screenshots!
What if I already have a Zoom account?
Only the NYC DOE Zoom Platform is allowed for student, family and staff use. Earlier this school year some teachers, schools, and related service providers may have been using a non-DOE licensed version of Zoom--either for free or through a paid subscription.
This is no longer permitted for security reasons
All DOE staff who want to use Zoom in a professional capacity must sign onto theNYC DOE Zoom account.
What do I do about my own free account?
If you've used your NYC DOE email address, stop using the account. Instead, sign into the NYC DOE platform with your DOE credentials.
If your personal account is tied to a personal email address, you can continue to use it-at your own risk-- for personal use only.
What do I do with my own paid account?
Only the NYC DOE Zoom platform is approved for NYC DOE staff, students, and families. Once you sign into the NYC DOE platform with your DOE account, if you have another Zoom account tied to those credentials, you'll be asked about migrating your account and refunds.
What do I do if my school is paying for it?
If your school has an existing account with Zoom, when the school administrator signs into the NYC DOE's Zoom platform with those same credentials, they'll be asked about migrating the school account and refunds.
What is Zoom Live Streaming?
Zoom Live Streaming lets you stream a live meeting through another platform like Facebook or Youtube. It's a great way to partner with experts outside of the DOE or manage live events like graduations and other all-school experiences.
Because people access your live streamed meeting from your school's Facebook page or Youtube channel, the capacity--and the security--are not the same as in a standard DOE Zoom meeting:
People without a DOE log-in can watch a meeting that is being live streamed
The number of viewers is only limited by the platform you are streaming to (i.e.Youtube)
Keep in mind that you have to moderate--or disable--the comments within the platform you are streaming to. Neither Zoom--nor the DOE--have control over that functionality on those platforms. Only the person hosting it does.
Find out more about:
Making Zoom Safe for the DOE
DIIT has worked with Zoom to make the aforementioned key upgrades to their platform, as well as:
Making their system less vulnerable to hacking, with increased protection of meeting data in transit. They upgraded from the 128-bit AES encryption to 256-bit encryption standard.
Limiting hosting data and transit within the U.S. for customers upon request. This feature gives the DOE more control over data and a safer interaction with the Zoom global network.
Making Zoom meetings more private and secure. the NYC DOE Zoom platform can give hosts easier access to security meeting controls, such as the ability to lock a meeting and remove participants.
Confidentiality and Data Security Agreement
On Monday, May 4, 2020, Zoom entered into a confidentiality and data security agreement with the DOE, and has agreed to terms that meet (and in certain respects exceed) the requirements of N.Y. Education Law 2-d and FERPA. Zoom had not included this for individual schools or individuals who signed up for Zoom on their own. These back-end security upgrades are new, were not previously available, and will not be available without using the DOE's central Zoom account.
Protecting Zoom Sessions from Unwanted Activities
When using this platform, it is vital that we actively protect the educational and safety needs of our students, parents, families, and staff. As such, users must take precautions to ensure everyone using this platform does so with good intentions. Like most other public online platforms, it is possible to have a person (who may or may not be invited) disrupt an event, and subject participants to inappropriate language and visuals known as "zoom bombing".
To prevent such occurrences, when planning to use the Zoom platform for public events, it is paramount that users hosting meetings abide by the following privacy and security protocols:
Manage Screen Sharing
Only hosts and co-hosts can share their screens by default in the Zoom. However, hosts may enable screen sharing for participants on a per meeting basis or change settings to allow participant screen sharing by default for all meetings.
Before the event, click the security icon in the meeting host's toolbar to easily enable and disable screen sharing: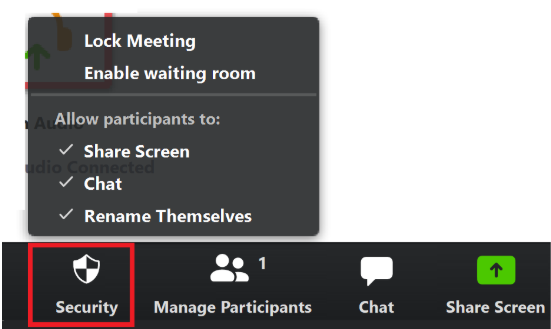 Prevent Screen Sharing
To prevent participants from screen sharing during a Zoom meeting, use the host controls at the bottom, click the arrow next to Share Screen, and then Advanced Sharing Options:

Manage your participants
Some of the other great features to help secure your Zoom event and host with confidence:
Before the event:
Allow only registered users to join: This feature can be useful when you want to control your guest list and invite only specific individuals (for example, students or colleagues). When someone tries to join the meeting who isn't signed into a registered Zoom account, they will receive a notice indicating the meeting is open only to authorized attendees. They will have the option to sign in with an authorized email address. If someone tries to join your event and isn't signed into Zoom with their DOE email or the verified email used on the invite, they will receive this message:

See How to Schedule a Secure Zoom Meeting for instructions on controlling who can join your meeting.
Set a meeting password: This option requires attendees to enter a password that you provide before they can join the meeting. You don't have to share the actual meeting link! Generate a random Meeting ID when scheduling your event and require a password to enter. Then you can share that Meeting ID with attendees.
Lock the meeting: Locking a Zoom meeting that is in progress prevents new participants from joining, even if they have the meeting ID and password (if you have required one). In the meeting, click Participants at the bottom of the window, then click the Lock Meeting button in the pop-up window.
Enable video only for the presenter: You can only see a limited number of participants anyway, depending on your screen size, and enabling video gobbles up network resources. If you plan to lecture without feedback (e.g., for a large seminar), you can also disable participant audio.
Authentication: Zoom meeting authentication should never be turned off when inviting external users. You should select "Sign in with Zoom"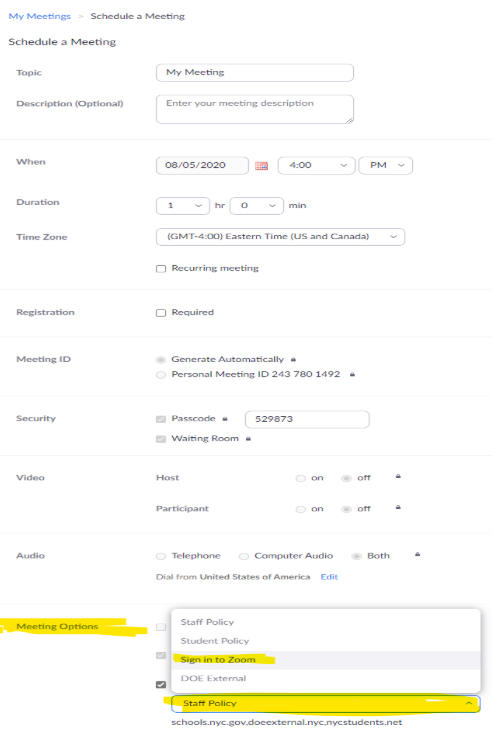 During the event:
Remove unwanted or disruptive participants: From that Participants menu, you can mouse over a participant's name, and several options will appear, including remove. Click that to remove someone from the meeting. They cannot rejoin the event.
Disable video: Hosts can turn someone's video off, allowing the hosts to block unwanted, distracting, or inappropriate gestures on video.
Mute participants: Mute is the default option. Hosts can mute/unmute individual participants or all of them at once. Hosts can block unwanted, distracting, or inappropriate noise from other participants. You can also enable Mute Upon Entry in your settings to keep the clamor at bay in large meetings.
Disable private chat: Zoom has an in-meeting chat available only for DOE staff. It restricts other participants, such as students and external guests' ability to chat amongst themselves while your event is ongoing. It cuts back on distractions and prevents anyone from getting unwanted messages during the meeting.
Don't Make Private Meetings Public
Whenever possible, distribute your Zoom meeting link only to those individuals who will be attending your class or meeting. If you share your meeting link on social media or other public platforms, anyone who sees it will be able to join your session (unless you set a password for your meeting and share that privately with attendees). That includes trolls, who can then share or post inappropriate or offensive material ("zoom bombing").
Teletherapy and Related Services
Zoom, as provided by the DOE under teletherapy-designated (HIPAA-compliant) accounts, is safe for teletherapy and related services. Please confirm with your administrator that the account you are using is designated for provision of teletherapy services.
Participant personally identifiable information is omitted from Zoom reporting and logging (e.g., IP address, email address, display name) and is not collected by Zoom.
The ability to record meetings to the Zoom cloud is disabled, so hosts can record meetings on their own device, but they cannot store the recording in the Zoom cloud.
Live streaming video to third-party streaming services is disabled (so no one can "broadcast" the session to Facebook or Twitter).
The ability to copy or save chats during a meeting is disabled.
In-meeting chat logs and file transfer are both disabled.
Zoom forces data encryption for all third-party teleconferencing systems.
Zoom forces advanced encryption on out-of-meeting chat communications (including files) which results in the chat communications being fully encrypted with only the users (not Zoom) having access to the encryption keys on their local devices.
Zoom Getting Started Guide