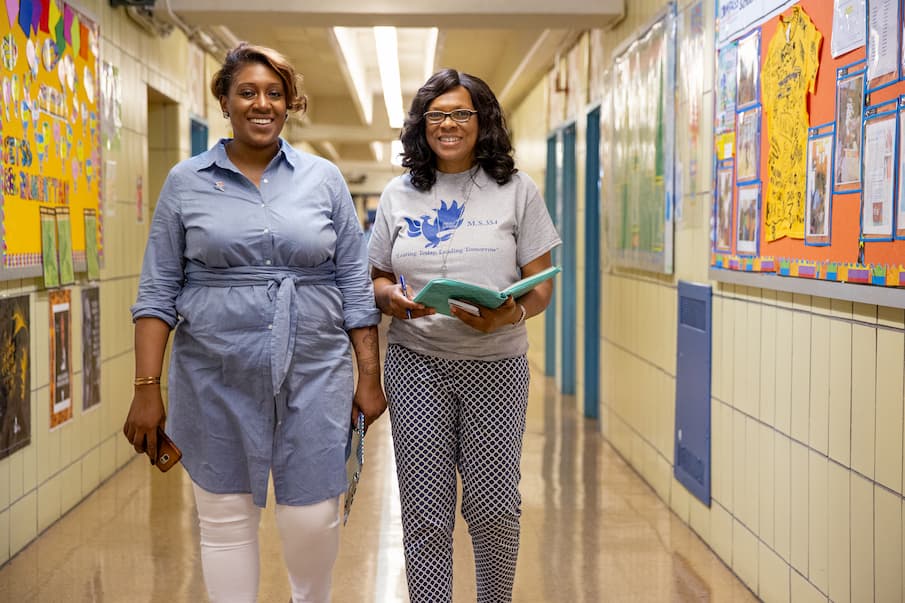 Overview
Community Schools is a cornerstone of NYC's education agenda and fundamentally changes how we all think about our schools by helping to ensure that our students' education is everyone's top priority.
NYC Community Schools organize resources and share leadership so that academics, health, youth development, and family empowerment are integrated into the fabric of schools to support the whole child.
Community Schools are centers of opportunities in neighborhoods; places where families, with whatever challenges they bring, get the supports they need to make sure students come to school ready and able to learn.
What are Community Schools
All Community Schools have four evidence-based features:
Collaborative Leadership & Practice: Principal, CBO partners, families, and teachers work together to implement the Community School strategy using data to guide continuous improvement and collaborative planning. All NYC Community Schools have a Community School Director who integrates services, programs, partnerships, and supports for students and families.
Family and Community Empowerment fosters relationships of trust and respect. Community Schools build the capacity of all stakeholders to create empowered decision-making processes.
Expanded Learning Time offers and opportunities for students to engage in hands on learning after school, on weekends, and summers.
Wellness and Integrated Support Services: Community Schools provide students and families access to numerous health resources and social services including mental health services, vision, reproductive health, and access to critical services such as immigration and housing supports
All Community Schools partner with a lead Community Based Organizations (CBOs). Find a map of all Community Schools and a list of their CBO partners. Watch this video from PS 8 / Children's Aid which shows the dynamic and supportive nature of the community schools strategy.
Our Impact
Getting Started
National research speaks to stages of development for Community Schools and any school can begin their journey along these stages.
Some suggestions for getting started include:
Embed community partnerships into a school's Comprehensive Education Plan
Complete the NYC Community Schools Asset & Needs Assessment.
Invite community organizations and businesses to the school to learn more about educational priorities.
Align instruction with out-of-school offerings to support student learning.
"
Community Schools: A Guide for Getting Started
" offers additional ideas and resources that any school can use to implement the Community School strategy.
Contact Us
For more information, go to www.communityschool.nyc Have a question? Contact the Office of Community Schools at communityschools@schools.nyc.gov.