Introduction
As shared in the Mayoral and Chancellor announcement in December 2020, the NYCDOE is planning for the implementation of a strengths-based, Social-Emotional Learning (SEL) screener in the 2021-2022 school year. The screener is a tool to advance implementation of Multi-Tiered Social Emotional and Mental Health support in schools, building on historic investments the NYCDOE has made over the past several years. By administering the screener and analyzing corresponding screener data, schools will be able to identify students' social-emotional competencies, identify students who may benefit from additional support, and identify opportunities to strengthen the foundational support provided to all students, including through SEL-Academic Integration. Expansion of SEL programs like Harmony, Ruler, Restorative Practices, and Health Education, along with hiring of social workers and expansion of programs providing Tier 2 and 3 supports, create a strong foundation from which schools can leverage SEL data to support students.
New York City is doing this work in partnership with Urban Assembly, who will provide on-site implementation support to schools and Aperture, who created and manages the DESSA tool.
DESSA Screener
The DESSA is a strengths-based, CASEL aligned, norm-referenced rating scale. It includes 40 Likert Scale items, aligned to 8 domains of social-emotional competence, with teacher assessment and student assessment versions available. In year 1 of StrongResilientNYC, schools will administer the teacher assessment only. The screener is completed in an online portal that generates score reports, identifying student functioning across the 8 social-emotional domains as areas of strength, typical functioning, or areas of need, with a single composite score. Summary reports that aggregate class, grade, and school level data are also available to support analysis and intervention planning. You can view copies of the tool here: K-8 and 9-12.
You can access the DESSA through TeachHub. Look for the blue "Aperture Education: DESSA" logo under SEL Assessment.
Screener Administration Logistics
Schools are asked to identify two to four SEL Implementation Leads, who will lead their colleagues through the implementation of StrongResilientNYC. This can include any of the following tasks:
Ensuring all staff complete the SEL Assessment familiarization training;
Supporting staff to successfully complete the DESSA screener within the designated cohort window;
Liaising with BCO staff and/or Urban Assembly SEL specialists for any technical assistance needed; and,
Supporting staff in reviewing, analyzing, and interpreting screener data at the student and system (class, grade, school) levels in order to make informed decisions about supports and interventions.
Any staff member is eligible to serve as a SEL Implementation Lead, provided they can perform the core functions identified above. Schools are encouraged to consider a balance of skill sets for the SEL leads, with at least one person that has advanced SEL expertise (counselor, social worker, etc.) and one that has advanced instructional expertise (classroom teacher, special educator, etc.)
Registering SEL Implementation Leads in Galaxy
As mentioned above, schools are asked to identify 2-4 SEL Implementation Leads, who will lead their colleagues through the implementation of StrongResilientNYC. Guidance for how to select implementation leads is below. A "SEL Implementation Lead" role is part of the Table of Organization in Galaxy.
Please see here for instructions on how to register your SEL leads in Galaxy.
Programming Screening Raters in DESSA
The adult that completes the DESSA for a student is referred to as a rater. Default raters will be created automatically through the imports process.
The default rater for elementary schools will be the classroom teacher. The default rater for middle and high schools will be the attendance period teacher. To manually reassign raters for a student, follow the steps below. Note: in order to use this function you must be a Site Leader or Program Admin.
Follow these steps:
Navigate to the gear icon in the top right corner of the application
Click on "Admin"
Click on "Assignment Review" on the left navigation
Search for a student you want to reassign using the search bar and searching by "Student"
Click on the student's name in the table list to open a modal and change their raters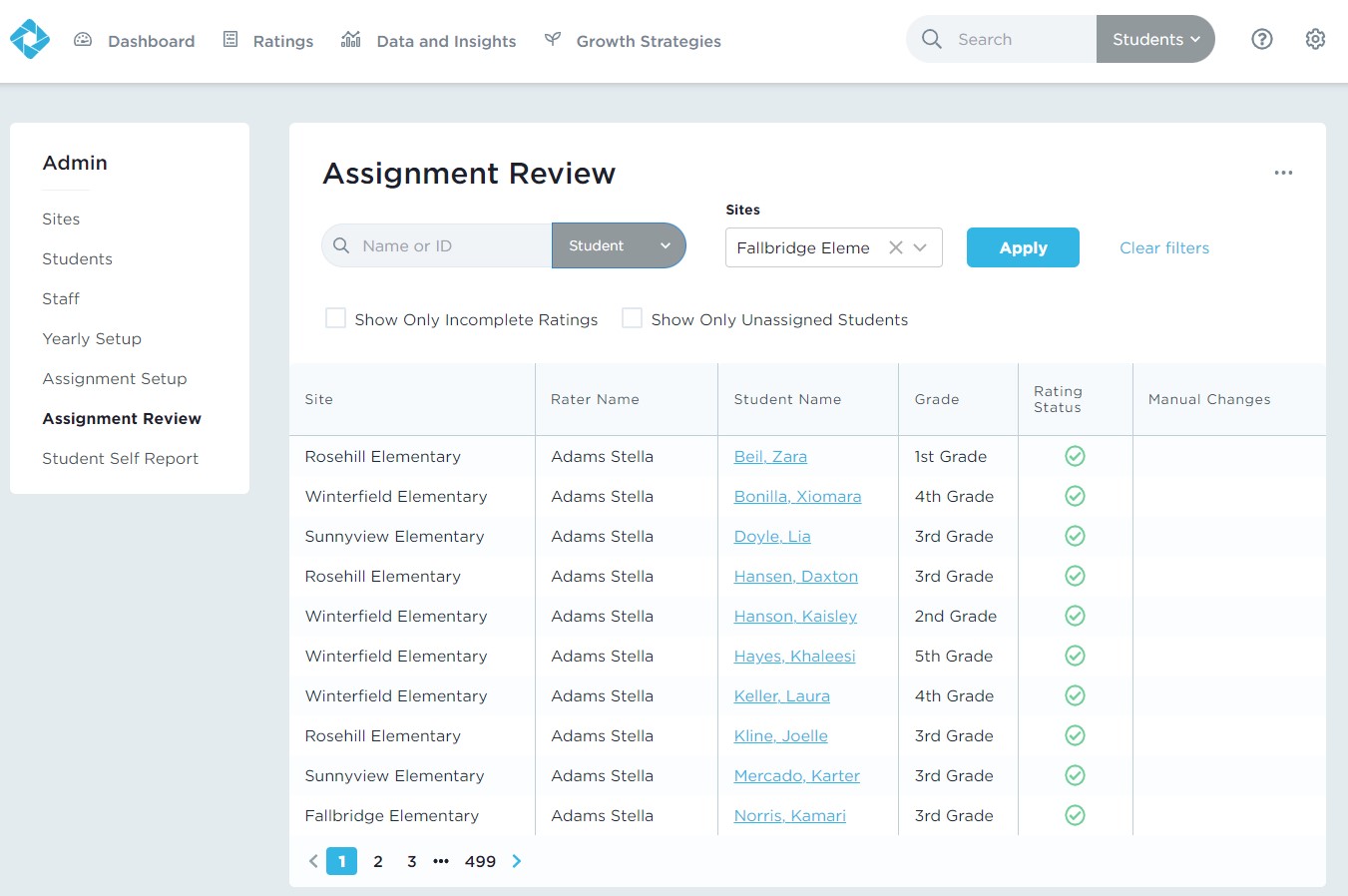 To view the unassigned students at your school, check the box reading "Show Only Unassigned Students" and hit "Apply." To remove all manually created assignments, click the "…" in the top right, and select "Remove Manual Changes."
Professional Learning
There are two professional learning opportunities available for staff: a one hour familiarization pathway for all school stakeholders and an extended certification pathway for SEL Implementation Leads.Included below is key information about the two pathways. Central and B/CO staff supporting social-emotional work in schools are encouraged to complete the certification pathway, with staff less directly involved completing the familiarization pathway.
All professional learning courses related to StrongResillentNYC are offered asynchronously on the DOE's WeLearnNYC platform (WeLearn). Please view the WeLearn One-Pager on how to access content from WeLearn.
Familiarization Professional Learning for Staff
Time: 1 hour
Audience: All school staff except staff completing the Certification Pathway
Description: An overview of Social Emotional Learning (SEL) and strength based assessments. Participants will understand the foundations of social emotional learning, principles of strength based assessments and key aspects of StrongResilientNYC.
Link to Training: WeLearnNYC page
Navigate to "My Courses," and click on "StrongResilientNYC: Familiarization."
Questions: If you experience trouble accessing WeLearn, please open a ticket online or contact the Help Desk at 718-935-5100.
If you have questions or issues with the training modules, please contact NYCsupport@apertureed.com
Certification Pathway
Time: 13 hours, 3 modules
SEL Implementation Leads are encouraged to complete Modules 1 and 2 before the school begins administering the DESSA, with module 3 as soon as possible.
Audience: School staff who have been selected to be the SEL Implementation Leads
Description:
Module 1: Overview and Organizing around Social Emotional Learning (SEL). Participants will understand the components of the StrongResilientNYC initiative, principles of high quality SEL, the Aperture system and strength based assessments, bias in assessments and how to avoid it, and confidentiality and data privacy considerations.
Module 2: The Resilient Scholars Portal: Participants will understand how to map principles of SEL to school activities utilizing the Resilient Scholars Matrix, how SEL skills contribute to effectiveness of widely used instructional strategies, and how these instructional strategies facilitate SEL and academic development.
Module 3: Tool + Concept Integration. Participants will understand how to utilize the strengths/challenges outlined in the DESSA results and the Resilient Scholars Portal matrix to implement MTSS, implement the StrongResilientNYC initiative at their school, and complete a certification review.
Link to Training: WeLearnNYC page
Navigate to "My Courses," and click on "StrongResilientNYC: Certification Pathway."
Questions: If you experience trouble accessing WeLearn, please open a ticket online or contact the Help Desk at 718-935-5100.
If you have questions or issues with the training modules, please contact NYCsupport@apertureed.com
Technical Support and Assistance
Implementing the DESSA and providing follow up support will require you to work in three different systems:
We Learn: NYCDOE platform for professional learning
Aperture: Online system for administering the DESSA screener
Urban Assembly Resilient Scholars Program (UARSP): If your principal has designated you as an SEL Implementation Lead in Galaxy, you should have received your email invitation to the Urban Assembly Resilient Scholars Portal. Please check your junk/spam folder if you have not received it. If you are still having trouble signing in, please reach out to nycsupport@apertureed.com.
Still Need Help?
If your issue is DOE-specific (such as login issues with WeLearnNYC or links not opening on your school computer, etc.) please contact the DIIT Service Desk by opening a ticket online or calling 718-935-5100.
If your issue is with logging in to the Aperture or UARSP systems, contact the Urban Assembly SEL Specialist assigned to your school's Borough Citywide Office by emailing nycsupport@apertureed.com.
Any other general inquiries can be sent to the DOE by emailing strongresilientnyc@schools.nyc.gov.
Family Facing Communications
Families can visit the Strong Resilient NYC for more information about the DESSA.
Schools can download versions of the family-facing DESSA letter: